THE INSPIRATION
The story begins in 1941 when Fin Utne, a Norwegian sailor, built a boat which had a wingsail (a solid symmetrical sail, not the traditional fabric) and a tail which was 'self-trimming' – something that had never been used on a boat before. Adjusting the small tail controlled the larger sail and new way of sailing was invented. While it did not take off as a sailing concept, (except in a small way with some experimental boats), Theo realised that the idea would be ideal for the Tidal Flyer® system.
"I incorporated the self-trimming tail into the design of Tidal Flyer®, which brought two significant benefits; it was a very efficient control mechanism for the hydrofoils and it doubled the working area of the system by allowing a looped system to be built. This in turn allows for power to be produced on both upstream and downstream lines. The self-trimming tail is the basis of the systems patent. I met Finbarr in 2006 and he saw the potential of Tidal Flyer® and wanted to invest. The rest is history…"
– Theo Devaney, Tidal Flyer® Co-Founder
THE LANDSCAPE
The world knows that the ocean gives us a vast opportunity for untapped renewable energy in the form of ocean currents, tidal streams, waves, offshore floating and fixed wind and floating solar. While Tidal Flyer® can be viable as a stand-alone system, it can be even more productive if combined with other technologies and the most easily combined with be floating solar and fixed or floating wind.
On a global scale and at this time in our earth's development, fossil fuels have come to the end of their usefulness; while there may be a few more decades while they fully peter out, renewable energy, in all its forms, will be around for centuries to come. We are part of a movement which will reach far into the future and long after all of us here now are gone, our decedents will still be benefiting from our efforts. It will be helping them with job creation, clean energy production and storage, assisting is keeping the environment clean and allowing for future expansion and development.

Our ability to harness clean, safe, cost-efficient energy will be key to our success. Overall system efficiency will also be fundamental to this effort and combining parts of the infrastructure by integrating technologies will have long lasting beneficial consequences in regard to investor confidence, affordable electricity and other forms of energy e.g. hydrogen. In fact, hydrogen is an ideal way to produce and store energy without having to additional costs and development work to connect power to the grid and is an ideal way to assist the ocean energy industry in its current development.
OUR DESIGN
Each hydrofoil unit in the system can be compared to a simple bi-plane – except with the 'wings' spaced further apart to give excellent lift and travelling vertically in the water as opposed to horizontally. As the tide moves through the system, the hydrofoils turn and the system travels around in a loop – generating energy.
The singular technical differentiator of the Tidal Flyer® system is that the tail in each unit is SELF-TRIMMING; this means that the tail is constantly searching for the optimum angle of attack for the hydrofoils and so produces optimum lift. This occurs for all velocities below the rated velocity. In flows where the rated velocity is reached, the SELF-TRIMMING TAIL will then adjust to maintain the rated velocity and thereby maintain an efficient power output.
Because of this simple but smart technology, the system is able to operate in low-flow areas of water. Whereas most horizontal or vertical access turbines require water flows of 6 knots or more – the Tidal Flyer® is able to take advantage of water sites with 4 knot currents.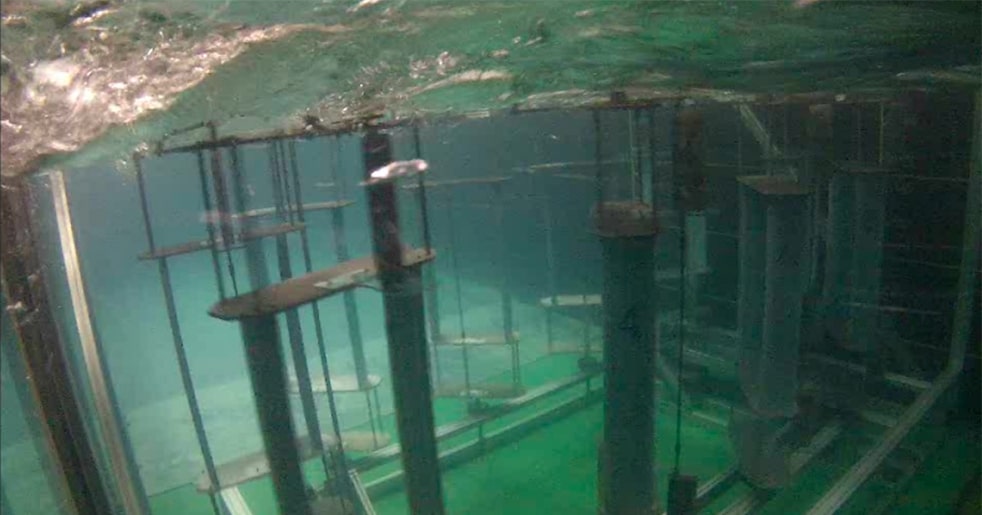 DEVELOPMENT
Key Milestones in the Tidal Flyer Development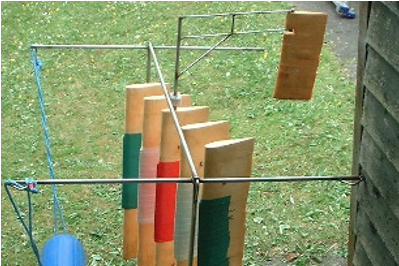 First Prototype
The first prototype tested in the Ballisodare River, Co. Sligo circa 2005. The water flow was approximately 0.3m/s and the system (as shown) crossed the river under its own power.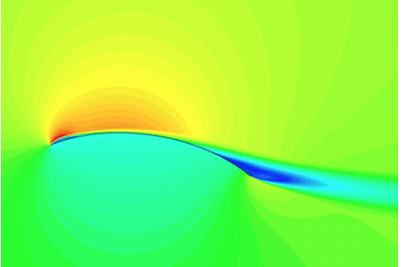 Initial CFD
Initial Computational Fluid Dynamics (CFD) undertaken at UCC in 2007 with a report produced outlining options for some basic design principles for the system, including foil profile and spacing, tail positioning, potential power available, etc.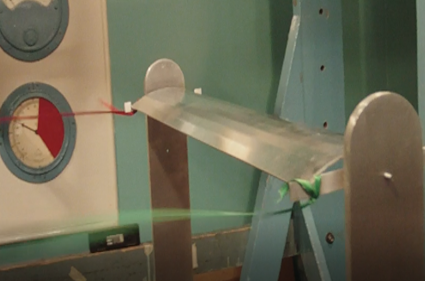 Wind Tunnel Tests
Enterprise Ireland funded wind tunnel tests at Strathclyde University in Glasgow. In total, over 300 separate tests were undertaking establishing empirical data for the theory of the system outline above and in addition we looked at Aspect Ratio, soft and hard foils, differing cambers and rough and smooth foils.
A WORLD FIRST
Tidal Flyer® is one of the ONLY scalable technologies that will allow us to tap into the energy potential of low and moderate flow waters – both tidal stream and rivers.

Here is a solution with a pragmatic, broader application – which gives you the opportunity to invest in a true, first-to-market innovation.
LESS HAZARDOUS TERRAIN
Because the inherent design of the Tidal Flyer® is made to function at lower velocities, the need to work in high-flow, hazardous waters with harsh conditions, is avoided.

There is little impact on the environment and minimal visible construction.
HIGH EFFICIENCY
Due to the large swept area of the Tidal Flyer® system, the overall efficiently of each unit is 45%. This makes it one of the most efficient tidal energy systems.

"This is a first-to-market investment opportunity that provides both cost-conscious AND environmentally-aware advantages."
ANY SIZE IS POSSIBLE
The system is MODULAR and completely scalable to suit any environment – scaled vertically AND expanded horizontally.

Foil heights can be adjusted to match water depths while the number of flyers can be increased horizontally to allow for expansion across broader channels.
ABOUT TIDAL FLYER®
The development of the Tidal Flyer™ system started in 2001, with the original idea – and has rapidly progressed since then. Open Ocean Energy Ltd. was established in 2007 for the purpose of undertaking detailed research and development of the system, and Tidal Flyer Ltd. (trading as Tidal Flyer) acquired Open Ocean Energy in 2018 to bring the technology to market.
Tidal Flyer Ltd. is an Irish research and development company which draws on the experience of its predecessors with over 17 years experience in tidal device development. We are established Domain Experts in Marine Renewable Energy.
Each of our team members brings to the Tidal Flyer® investment opportunity, key expertise and experience and a unique combination of skills:
Watch A Video
TRACK RECORD
Extensive track record in technology development.
DEVELOPMENT
Corporate development and finance acumen and experience.
GLOBAL BUSINESS
Sound and detailed experience of the diverse aspects involved in building a global business.
POTENTIAL
From our current stage of TRL3, which is Technology Readiness Level 3, we will move into the next stage (TRL4/5). This will see us developing a river/tidal prototype, operational in a real-world environment.
People Behind Tidal Flyer
Theo Devaney
Theo is a Chartered Engineer with Engineers Ireland and has been developing the concept of Tidal Flyer™ for 17 years. While he is a experienced fire safety engineer, he has always had a passion for the ocean and renewable energy and started to research tidal energy in earnest in mid 2002. By November of that year (approx. 11.35pm on the 15th!), he had an idea on how to capture vast amounts of slow moving water. Like all ideas leading to invention and development, it morphed and grew and expanded into the design we have today.
"I was very fortunate to meet Finbarr O'Driscoll, who also saw the potential in Tidal Flyer and wanted to invest; that allowed us to develop the idea with extensive research under the guidance of University College Cork, among others."
OUR PARTNERS
Tidal Flyer Ltd. operates as part of an extensive network that comprises partners within the academic, technological and business arenas. At the same time, we work closely with our current funding partners – Sustainable Energy Authority of Ireland (SEAI) and Enterprise Ireland (EI) who have supported us since inception.
Choosing to partner with Tidal Flyer® gives you the assurance that your investment is backed by a tranche of government bodies, leading financial planning experts, technological pioneers and specialist legal teams:
Contact us
Please use this form to get in touch!